At Winters Family Practice, our physicians are experienced in the use of the following brands:
Juvederm, Restylane and Versa
Fillers can be used to address a variety of cosmetic goals, such as:
Lip Augmentation
Wrinkle Correction
Restoration of Facial Volume
VOLUMA
DEFY GRAVITY.
A more youthful profile starts with the apples of your cheeks!
Winters Family Practice is excited to add Voluma to our filler family.  Voluma is the first and only filler FDA-approved to instantly add volume to the cheek area.  It gives you a subtle lift, helping to restore contour and a more youthful profile, for up to 2 years, in patients over the age of 21.  It is different from Juvederm and works on a different area of the face.
JUVEDERM
Everyone's skin ages differently and Juvederm may be used to rejuvenate multiple problem areas.From smile lines to vertical lip lines, you can smooth away unwanted wrinkles and restore natural contours.
Juvéderm™ is a smooth consistency gel made of hyaluronic acid—a naturally occurring substance in your skin that helps to add volume and hydration. Your healthcare professional eases Juvederm injectable gel under the skin to instantly restore your skin's volume and smooth away facial wrinkles and folds, like your "smile lines" or "parentheses" (nasolabial folds—the creases that run from the bottom of your nose to the corners of your mouth). Juvederm is FDA approved to last for about 9 months up to a year.
JUVÉDERM  injectable gel is now formulated with lidocaine, a common anesthetic used to improve the comfort of treatment.
Young, healthy-looking skin contains an abundance of a naturally hydrating substance called hyaluronic acid (HA). But as you age, sunlight and other factors can reduce the amount of HA in your skin. The lack of HA causes your skin to lose structure and volume, creating unwanted facial wrinkles and folds – like those parentheses lines around your nose and mouth.
Using a dermal filler like JUVÉDERM is a safe and effective way to replace the HA your skin has lost, bringing back its volume and smoothing away facial wrinkles and folds.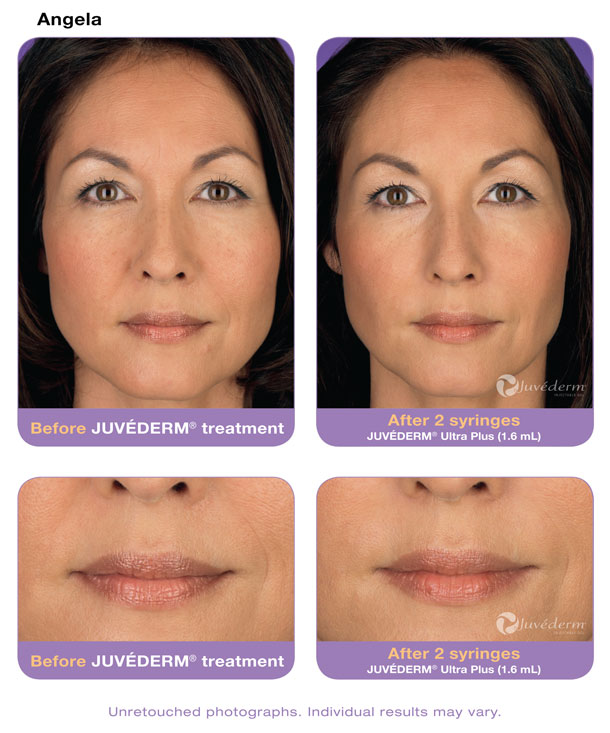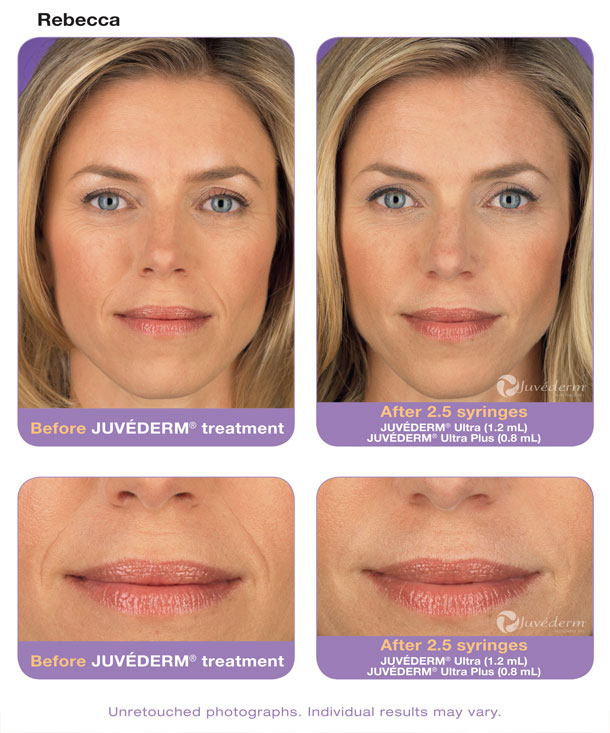 RESTYLANE LYFT
Get UpLyfted
Natural-looking volume and definition for your cheeks.
Restylane® Lyft is now approved by the FDA for cheek augmentation and the correction of age-related midface contour deficiencies in patients over the age of 21. This is in addition to treating moderate-to-severe facial wrinkles and folds, such as nasolabial folds (smile lines).
ASPIRE Galderma Rewards Program:
Make your Restylane and Dysport treatments even more rewarding by joining ASPIRE Galderma Rewards. We give you simple ways to earn exclusive rewards, bonuses and discounts throughout your facial aesthetic journey.
Sign up for your free membership now and receive an instant reward!
Or learn more by visiting ASPIRE Galderma Rewards.
Revanesse Versa
Revanesse Versa is a hyaluronic acid dermal filler. Hyaluronic acid is a naturally occurring substance that is found within the body.  This versatile filler can be used cosmetically to correct moderate-to-severe wrinkles and folds in the skin.  Versa provides the perfect balance between smoothness and volume, giving you very natural results.